CHÂTEAU Franc Maillet

« CUVÉE Montille » pomerol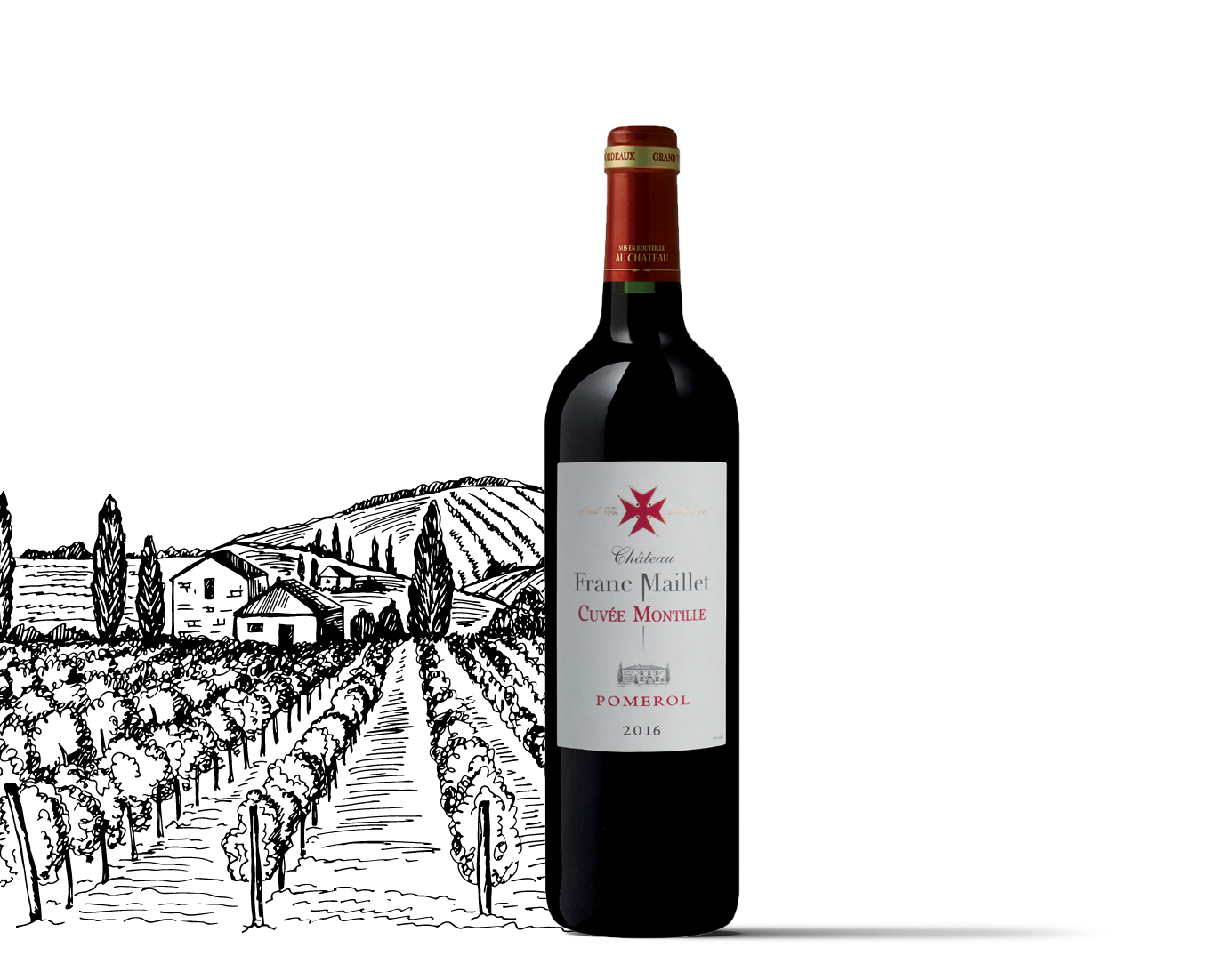 Tasting
The Merlot, a Bordeaux grape-variety which offers great finesse and roundness on the famous Pomerol terroir, gives this delicious wine its garnet-red colour with crimson tints, and its elegant bouquet of caramelised cherry and redcurrant along with hints of cinnamon. On the palate the wine is ample and the tannins smooth. The finish is long-lasting and powerful with notes of vanilla mingling with liquorice aromas.
SERVING TEMPERATURE
17-18°C
Bottle size : 75 cl
Soil : Siliceous gravely
Area of the property : 3,8 HA
Grape varieties : MERLOT – CABERNET FRANC
Alcohol : 14% vol
Most likely named after the French word for Apple (Pomme), Pomerol is the smallest of the major fine wine regions in Bordeaux, covering an area that is only two miles wide by 2 ½ miles long (only 14% the size of St Emilion) with only 150 producers. Here, Merlot and Cab Franc reign supreme.
LLocated at the name place 'Maillet', only 1,300 ft from Petrus and 2,500 ft from L'Evangile, this is a true family estate owned since 1919 by the Arpin family.
Today, Gerard and his son Gael run the 14 acres vineyard and elaborate Franc-Maillet in a cellar modernized in 2008 with smaller thermo regulated tanks and a lighter carbon footprint.
Everything here is handpicked, cold macerated at 53˚ prior to the 4 to 5 days of fermentation with 4 pumping over per day. The wine is then aged in a mix of tanks and a variety of barrels, bottled with a light filtration.